---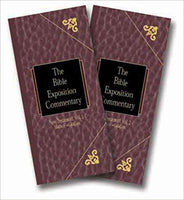 Sale
Here are commentaries that don't read like commentaries, but like letters from a good friend.
Here is the exciting truth of the New Testament Scriptures wrapped in the warm, personal style of one of America's best-loved Bible teachers.
All twenty-three of Dr. Warren Wiersbe's popular New Testament "BE" books are compiled in this two-volume set!
Study the entire New Testament, from Matthew through Revelation, in digestible sections that emphasize personal application as well as biblical content. And be spiritually enriched as have hundreds of thousands of other pastors, teachers, and students of the Word who have benefited from this bestselling series with over 3 million copies in print.
Hardcover
1266 pages
1989
9780896936591