---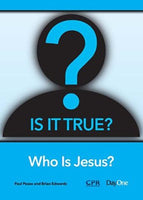 Sale
 The Birth of Jesus
No one in history has lived such a perfect, beautiful and significant life as
Jesus Christ.
His life, death, resurrection and his teaching have changed the story of our
world.
Tragically, the Western world has side-lined Jesus today and most people have
little knowledge of who he is and what he accomplished.
The result is a society sinking into violence and moral decay. People are fed
with false ideas of Jesus that have nothing to do with either the Bible or
historical fact.
The evidence for the historical Jesus and his resurrection is strong. See the
booklet in this series Is it True? The resurrection of Jesus.
This booklet, Who is Jesus?, introduces the real Jesus: who he is, what he is
like, all that he accomplished and how you can know him for yourself.
Here you will discover the glory of his person and the pure dignity of his
character.
ABOUT THE EDITOR
Brian Edwards holds a degree in theology from the University of London and is the author of over twenty books and the editor/ contributor to the Day One Travel Guide series and a number of symposiums. He co-authored the popular Through the British Museum with the Bible and Evidence for the Bible, both available in the British Museum bookshop.
Booklet

44 pages

2019

9781846256660