---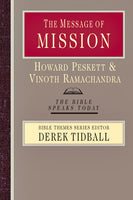 Sale
Mission is not an optional "extra" for those few volunteers who "like that sort of thing." The church is called to be God's agents and representatives, a community shaped by the cross and mandated to reproduce and grow so that Jesus Christ may be more and more glorified.
This exposition of fifteen passages of Scripture observes mission from the underside, giving attention to the connections between mission and suffering and even martyrdom, and to the historical importance of the church's conducting mission out of weakness.
All Christian mission has its fountainhead in the God revealed in Scripture, who sent his Son for us, sends his Spirit to us and summons all people to himself. In a unique East-West partnership, Howard Peskett and Vinoth Ramachandra explore the missional privilege and responsibility of the church: to testify by its words and deeds to Jesus Christ, God's unique Son, crucified, risen and ascended.
Paperback
288 pages
20003
9780830824076