---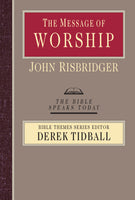 Sale
The invitation to worship God is the highest privilege of human beings—a privilege squandered by sinful rebellion, but also gloriously restored to us through the death, resurrection and ascension of Jesus Christ. Biblical worship is a response to God?s revelation of himself, empowered by the Holy Spirit, which finds expression in every aspect of human life and experience.
At the same time, there is a great deal of music and song in the Bible. Music is a wonderful gift of God in creation, and there is every reason to embrace its riches and harness its power responsibly for the glory of God and the blessing of his people.
However, Christians have often been divided over the theology and practice of worship, with differing views about spiritual gifts, the place of liturgy, priorities attached to various functions of the church, the weight given to congregational and "whole-life" worship, and the role and style of music.
While many of these areas are touched on in John Risbridger's excellent exposition, his intention is not to court controversy, but simply to allow Scripture to speak, in the hope of establishing as much common ground as possible. He follows a loosely trinitarian structure, in which the main sections explore the connection between worship and the purpose of the Father, the supremacy of the Son and life of the Holy Spirit. Each section concludes with two chapters on the Psalms, in which we hear a variety of "voices", and learn to join their distinctive songs.
Paperback

296 pages
2015

9780830824175