---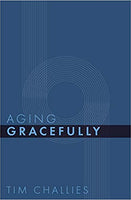 Sale
How does the Bible instruct us as we grow older? Age gracefully, age wisely, age resolutely to the glory of God.
---
There are few longings in my heart deeper than this: That God would let me live a godly, purposeful, dignified old age. I mean to encourage us both to age gracefully, to age wisely, to age resolutely to God's glory.
We are all aging. We are passing through time until we reach the end of our time. We soon learn that greater age brings greater sorrow but also greater joy, especially to those who are in Christ.
To age gracefully we must age in Christ and for Christ. What does it look like to age gracefully? What do we need to be doing now to ensure we finish this race strong?
These are questions for all Christians, young and old. Thankfully the Bible speaks clearly about how to age and how to age well. Join me in exploring what the Bible has to say about age and aging and learn how we can all hear those beautiful words, "well done, good and faithful servant."
–Tim Challies
Type: Paperback
Pages: 45
ISBN: 9781941114421
Publication Date: 2018