---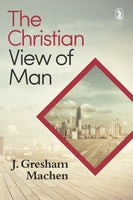 Sale
The question: What is Man? which arose centuries ago in the Psalms remains one of the most vital issues faced by present-day man.
Bewildered by technological advance, alienated from the convictions and lifestyle of his forefathers, modern man has lost his place in the universe. The echoes of his bewilderment can be heard everywhere, from the city graffiti to the rock songs, subcultures and new religions of our time.
Yet there is an answer to man's identity crisis. Man is made by God, in his image, for his glory. This truth with all its implications, is the theme of Gresham Machen's popular presentation of The Christian View of Man. It explains, for Christians and non-Christians alike, how the Bible serves as a mirror to show us who we are. In simple yet careful language, Machen deals with such subjects as creation, man as the image of God, the fall, sin, God's providence and care, and God's restoring grace.
Paperback
254 pages
2015
9780851511122