---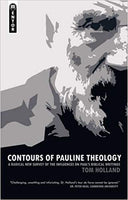 Sale
New Paperback edition. The Apostle Paul is a controversial church figure. Many theologians accuse Paul of starting a new religion: of hijacking early Christianity in a different direction. Is this a fair charge?
Tom Holland points us to a neglected fact, that the Jews in the first century AD would view concepts of salvation through the Exodus of Israel from Egypt to the promised land. Until now, a real elephant in the centre of the hermeneutical room.
Such a viewpoint opens up new understanding on Pauline studies - it is true of this book that it will change your view of the New Testament and deserves to radically alter New Testament studies in Universities, Theological Colleges and Seminaries around the world.