---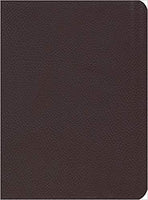 Sale
The Reformation Study Bible (2015) has been thoroughly revised and carefully crafted under the editorial leadership of R.C. Sproul and the contributions of 75 distinguished theologians and pastors from around the world. Over 1.1 million words of new, expanded, or revised commentary represent 40% more content faithfully presented to emphasize the need for the grace of God to lead out of darkness and into the light of Scripture.
Faithful Commentary
New theological notes from general editor, R.C. Sproul
Commentary from 75 distinguished theologians from around the world
New topical articles to enrich additional study of Scripture
Thoroughly Revised & Expanded Study Aids
Over 1.1 million words of verse-by-verse and topical explanations
Over 20,000 new, revised, or expanded study notes
Historical creeds and confessions from 2,000 years of church history

 
New Study Tools & Visual Helps
Includes over $400 of digital resources (eBooks, videos) from Ligonier Ministries and 6 months of

 

TabletalkMagazine
16 pages of high-resolution full color maps at back of Bible
Embedded maps provide quick references as you read
Concordance, table of weights and measures, and more
This Bible features Smyth-sewn binding, gold gilding, 3 reference ribbons, protective slip case, and 32-page Welcome Guide.
Made in the USA
Genuine Leather
2560 pages
2019
9781642892291