---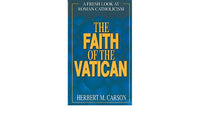 Joint enterprises between Roman Catholics and evangelicals in the area of evangelism, joint participation in charismatic gatherings and calls for a united endeavor in reaching a godless world are all on the increase.  The latter half of the twentieth century has also seen a remarkable change in the attitude to Scripture among Roman Catholics, with personal Bible reading and Bible study groups being positively encouraged in many quarters.
In the light of all these developments, Herbert Carson, an evangelical minister of many years standing, who has personally had opportunity to discuss doctrinal differences with Catholic priests and theologians, examines afresh the official teaching of the Roman Catholic Church, as set out in some of its most recent publications, to see if there is any shift in its fundamental position. 
In doing so, he author's primary aim is the positive presentation of God's truth and a concern for the glory of Christ.  While a number of controversial matters are raised, as traditional teachings are examined in the light of Scripture, this is not for the sake of controversy, but in order to point readers clearly to the one perfect and sufficient sacrifice offered once and for all at Calvary.
Paperback
192 pages
© 1996
ISBN 9780852343456