---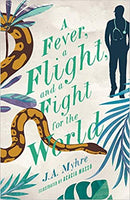 Sale
A Fever, a Flight, and a Fight for the World is a compelling African adventure story that will enthrall eight- to fourteen-year-old youth who love adventure and learning about faraway places. In the exciting fourth and final book in the Rwendigo Tales series, readers will be inspired by ordinary people who make the extraordinary choice to stand against great evil. Written by J. A. Myhre, a doctor living and working in East Africa, this adventure story teaches readers of all ages important truths about justice, overcoming evil, and the courage to make a difference.
In A Fever, a Flight, and a Fight for the World, A doctor volunteering in a village plagued by a mysterious virus wakes up on a deserted island injured, sick, and near death with no memory of how he got there. As Dr. Mujuni slowly regains his memory, he pieces together the horrific reality of what happened to the community and learns just how far the government-backed officials will go to silence all knowledge of the epidemic. As a young girl named Nyakato, the only other survivor, nurses him back to health, the doctor must devise a plan to make their way back to the mainland, but what they discover on their journey is even more dangerous than they could ever imagine.
Through a series of perils and hazards, Mujuni and Nyakato must fight for more than their own lives, learning the true cost of overcoming evil and greed. Through their adventures, readers will find hope in the midst of great loss, triumph and courage in the midst of death and injustice, and love in the midst of darkness.
Pages: 176
Type: Paperback
ISBN: 9781948130578
Publication Date: Oct. 1, 2018