---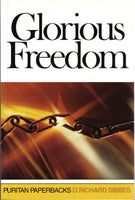 Sale
A renowned Puritan shows the transforming liberty which comes from seeing Christ in the gospel. This is an exposition of 2 Corinthians 3:17-18.
The original title of this study was The Excellency of the Gospel above the Law. In it Sibbes described the fuller self-revelation of God in the coming of Christ and its greater effect in those who behold that glory by the Spirit. The vitality of the new covenant results in spiritual liberty and likeness to Christ.
Thomas Goodwin and Philip Nye supervised the first edition of this work which was first published in 1639, four years after Sibbes' death. They described it as showing 'the liberty of the sons of God… the image of their graces here and glory hereafter' and as providing 'much comfort and great encouragement to all (who) begin timely and continue constantly in the ways of God'.
The text of the original treatise is reproduced here with the minimum of editing.
Paperback
208 pages
2000
9780851517919