---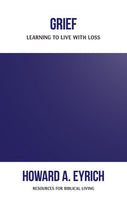 Sale
Many Christians' thoughts about grief have been greatly shaped by the world. Too often we are attached to life in the body and do not handle well these difficult, but very important, times of life.
Here Howard Eyrich helps us not to grieve like those who have no hope, but as children of a loving and providing Father. He shows us that grief is no mystery to fear, nor is it a series of predictable stages to work through. Rather, we find meaning for our loss and a place for our sorrow in the one place we can always hold fast to—the pages of God's Word.
So come and receive true biblical comfort for grief, as Eyrich addresses not only the reality of losing loved ones in death, but also the many other experiences that can lead us to mourn. This fresh approach will tell you, in a personally applicable way, how to work through your grief and emerge on the other side grown and matured.
Booklet
39 pages
2010
9781596382039