---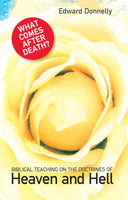 Sale
Heaven and Hell concerns both the most popular and the most unpopular of all Christian teachings- heaven on the one hand, and hell on the other. Yet the two belong together, and the Bible, and Christian teaching through the ages, have always done what Ted Donnelly does in this series of addresses- held the two together, and not allowed either reality to be emphasized to the neglect of the other.
In this outstanding work, Donnelly first paints in the sombre background of the biblical teaching on hell, so that we may be warned to flee from it, and so that the glorious reality of heaven may shine all the brighter, and attract us all the more strongly.
Like the author's earlier work published by the Trust, Peter: Eyewitness of His Majesty, the book excels in biblical realism and pastoral warmth.
Paperback
127 pages
2002
9780851518114