---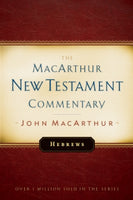 Sale
Join John MacArthur in
Hebrews
as he explains each verse in a way that is both doctrinally precise and intensely practical.
The theme of Hebrews is simple: Jesus Christ is superior to and preeminent over everyone and everything. His absolute supremacy overshadows all else and demands the worship and allegiance of every individual. With eternity at stake, how one responds to Jesus Christ is the most important decision a person will ever make.
The
MacArthur New Testament Commentary
comes from the experience, insight, and wisdom of one of the most trusted ministry leaders and Bible teachers of our day. Each volume was written to be as comprehensive and accurate as possible, dealing thoroughly with every key phrase and word in the Bible without being unduly technical. This series helps provide a better, fuller, and richer understanding of God's word while challenging all readers-no matter what their expertise-to grow in a vibrant, personal spiritual walk.
Additional Series Features
emphasizes both an explanation and application of
illuminates broad doctrinal themes
each passage is related to other passages dealing with similar themes
avoids undue technicality
provides sharp, clear outlines
Commentary sections comprise pericopes of Scripture (e.g., 2 Timothy 1.1-5)
key words/phrases are highlighted in bold
Hardcover
471 pages
ISBN: 9780802407535
Publication Date: 1983