---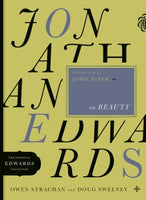 Sale
Beauty is hard to describe, but easy to identify. It resides in expected and unexpected places in our world. Beauty is present in our world in a variety of forms. Yet while the average person might think about the reality of beauty from time to time, few people would think about the source of beauty. Where does beauty come from? Why is it here?

Several hundred years ago Jonathan Edwards did some thinking of his own on this difficult subject. This volume explores his meditation on the subject and lays out a Christian framework for understanding and experiencing the beauty God has planted in His world.

Edwards found in the study of beauty the person of God. Where Edwards saw beautiful images and acts, he saw a representation, a small picture, of a reality too great to comprehend, a God too majestic to adequately adore. He sets in motion a path of glory that begins with the Lord, moves to creation, continues to the incarnation of Christ, moves to the church, and ascends to the glory of heaven, where the Holy Trinity dwells.

Easily accessible and readable, you do not need to be a scholar to enjoy these insights about Jonathan Edwards and his writings.
Paperback
160 pages
February 2010

9780802424587