---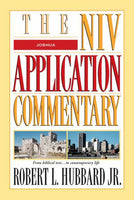 Sale
The book of Joshua recounts major transitions in the lives of God's chosen people and speaks of subjects that are difficult to comprehend, such as war and ethnic cleansing. Robert Hubbard navigates through these chapters, probing beneath the surface of the biblical text to apply the timeless themes of the book of Joshua to our lives in the twenty-first century.
To bring the ancient messages of the Bible into today's context, each passage is treated in three sections:
Original Meaning.

 

Concise exegesis to help the reader understand the original meaning of the biblical text in its historical, literary, and cultural context.
Bridging Contexts.

 

A bridge between the world of the Bible and the world of today, between the original context and the contemporary context, built by discerning   what is timeless in the timely pages of the Bible.
Contemporary Significance.

 

This section identifies situations that are comparable to those faced by the original audience and explores personal, cultural, and societal applications of the passage to those situations. The author also alerts the reader to problems they may encounter when seeking to apply the passage and helps them think through the issues involved.
This unique, award-winning commentary is the ideal resource for today's preachers, teachers, and serious students of the Bible, giving them the tools, ideas, and insights, they need to communicate God's Word with the same powerful impact it had when it was first written.
Hardcover
652 pages
2009
9780310209348