---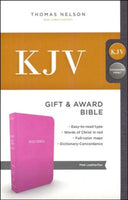 Sale
Material: Imitation Leather, Pink
Featuring the beautiful and trustworthy KJV translation, the KJV Gift and Award Bible is a special-occasion Bible that is given to recognized individuals or groups. The affordable price of this Bible makes it convenient to buy in bulk and is ideal for celebrating graduations, baptisms, birthdays, new church attendees, and personal or group achievements. This Bible includes a special presentation page, the Words of Christ in red, an easy-to-use dictionary-concordance, charts, maps, and comes in the beautiful new Thomas Nelson KJV font.
Features Include:
Beautiful new Thomas Nelson KJV font
Words of Christ in red
Easy-to-use Dictionary-Concordance
Miracles and Parables of Jesus
Presentation page
Full-color maps
8.75" x 5.50"
Imitation Leather
736 pages
2017
9780718097950