---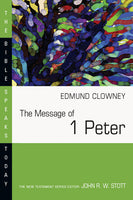 Sale
The letter of 1 Peter is a traveler's guide for Christian pilgrims. To believers scattered throughout Asia Minor, Peter wrote with a reminder that they were temporary residents, strangers looking toward their true homeland. As stormy persecutions were beginning in the region, Peter brought a message of hope, encouraging readers to see their lives in the context of God's great work of salvation.
In this Bible Speaks Today volume, Edmund Clowney expounds Peter's rich pastoral letter, exploring historical background, key themes, and applications for today. He highlights topics such as the life and work of Jesus, the reality of suffering, and the fulfillment of Old Testament promises. The Message of 1 Peter shows readers in every era what the story of Jesus' life means for us as we take up our cross and follow him.
This revised edition of a classic BST volume includes updated language and Scripture quotations and a new interior design. A study guide for individuals or groups is included to help readers engage more deeply with the text.
General preface
Author's preface
Chief abbreviations
Introduction
1. The apostle to the Jews blesses God's true people (1:1–2)
2. Bless God for our hope in Christ (1:3–12)
3. Live obediently in hope (1:13 – 2:3)
4. Live as the people of God I: The life of the spiritual temple (2:4–10)
5. Live as the people of God II: The new lifestyle (2:11–20)
6. Live as the people of God III: The new lifestyle (continued) (2:21 – 3:7)
7. The blessing of living with Christian suffering (3:8–22)
8. The blessing of living as stewards of grace (4:1–11)
9. The blessing of suffering for Christ's sake (4:12–19)
10. Living in the suffering church of God (5:1–11)
11. Final greetings (5:12–14)
Appendix A: 'Resident aliens' – literal or figurative?
Appendix B: Living rock, living water
Appendix C: The office of elder in the New Testament
Study guide
Paperback
232 pages
June 1, 2021

9780830825127