---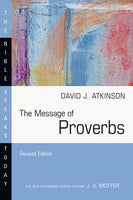 Sale
The book of Proverbs is the most practical book in the Bible. Its instruction in the art of living has been long tried and long proven. Its proverbial seeds of discernment are ready to be planted and rooted in the receptive soil of wisdom's hearers today.
As much as we glean from the surface of Proverbs, there remains still more in its depths. David Atkinson's commentary wonderfully illumines the ancient cultural and religious background of the discourses and sayings of Proverbs. More important, Atkinson brings the wisdom of Proverbs into conversation with the wisdom of God now more fully displayed in Christ, clarifying the place of Proverbs in the pattern of God's Word.
Part of the beloved Bible Speaks Today series, The Message of Proverbs offers an insightful, readable exposition of the biblical text and thought-provoking discussion of how its meaning relates to contemporary life. Used by students and teachers around the world, the Bible Speaks Today commentaries are ideal for those studying or preaching the Bible and anyone who wants to delve deeper into the text. This revised edition of a classic volume features lightly updated language and a new interior design.
Paperback
176 pages
July 2023
 9781514006290