---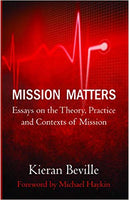 Sale
This work explores the biblical mandate, historical development and cultural contexts of mission and proposes a strategic approach going forward. God is a missionary God, the Bible is a missionary book, the church is a missionary institution and its mandate is a missionary directive. Contemporary culture presents many opportunities for the entrance of the gospel. So each church must find ways of having meaningful interaction with those outside the church. In the West militant secularism, aggressive atheism and postmodernism present those entrusted with the task of mission with the challenge of finding a new apologetic approach. But this must be done without capitulating to the prevailing culture. 
The reports from the mission field give insights into fascinating people and circumstances and the challenges they face with courage, and commitment to the gospel. Their faith is truly inspirational. These portraits of diverse cultures reveal what God can do and indeed has done in these lands. The former communist regimes of Eastern Europe 
are now open to the gospel. But there is still opposition and resistance. These countries are not only open to the gospel but they are also open to negative influences, making the need for mission even more urgent than before. The Arab world has seen the dawn of a new era but it is still a crime in such lands to lead people to faith in Jesus.
India
 has had centuries of missionary activity and has about forty-five million Christians today. But it is susceptible to syncretism and nominalism. One thing is clear from this book; God is active in this world in building his church. In spite of the antagonism it encounters the church is alive and growing. His love is being made known by those who bear the torch of mission.