---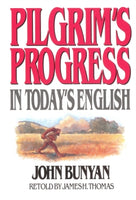 Sale
The best allegory ever written is rewritten in modern English, making it clearer and more forceful to the modern reader.
With more than 100,000 in print, this retelling by James H. Thomas follows Christian as he leaves his home in the City of Destruction and begins a long journey to the Celestial City. His adventure is full of encounters with interesting people, such as Faithful, Hopeful, and Ignorance. Traveling through places such as Vanity Fair and the Valley of the Shadow of Death, he reaches his heavenly home but learns rich lessons during the journey. The story has immediate application to everyday life.

Later on, Christian's wife, Christiana, decides to join her husband in the Celestial City. As she travels, Christiana comes upon a different set of people, such Greatheart, Mercy, Honesty. Her story illustrates how Christians follow different paths but with the same destination: eternity with Jesus. 
Paperback
256 pages
1971
9780825473593