---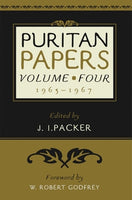 Sale
The Reformers and the Puritans receive most of the attention in the fourth volume of Puritan Papers, sixteen papers originally presented at the annual Puritan and Reformed Studies Conferences in London, 1965—1967. J. I. Packer, the guiding force behind these conferences, contributes three chapters: (1) Martin Luther, (2) John Owen on communication from God, and (3) the Puritans and spiritual gifts.
Other chapters on the Reformation treat Zwingli (D. W. Marshall), the Anabaptists (D. P. Kingdon), Cranmer (G. S. R. Cox), and Knox (S. M. Houghton). Additional chapters on the Puritans focus on their view of catechisms (J. Lewis Wilson), Richard Baxter's Reformed Pastor (J. A. Caiger), and Oliver Heywood (W H. Davies). Chapters are also devoted to "Ecclesiola in Ecclesia" (D. Martyn Lloyd-Jones), Charles Finney (P. E. G. Cook) and Abraham Kuyper (Rex Ambler).
These conferences, which began in 1956, helped to stir interest in the Puritans among Evangelicals in the U.K.
Paperback


305 pages
2004
9780875524696