---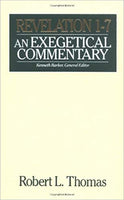 Sale
Through the centuries since its writing, the book of Revelation has captured the fascination of the Christian church. The earliest Christians were unanimous in understanding it along a premillennial view of Jesus' second coming, but other hermeneutical approaches began to emerge in the third century. These clouded, and added complexity to, the task of explaining the book's meaning. For most of the Christian era, consequently, many readers have viewed this last of the NT writings as though it were hopelessly embedded in an aura of deep mystery. An avalanche of interpretive literature has evidenced remarkable interest in the book's contents, but along with the interest has come widespread bewilderment.
Written especially for the informed layman, student, and scholar, this commentary seeks to clear the air. The book is interpreted according to a historical and grammatical hermeneutic and propounds a conservative, evangelical theology, but the reader will not get a narrow view on areas of disagreement. This commentary interacts with a range of major views, both evangelical and nonevangelical. It reaffirms the basic framework of eschatology espoused by ancient Christianity, but with added help from centuries of maturing thought and doctrinal progress in the Body of Christ.
All exegesis and exposition in this commentary on chapters 1–7 are based on the original language of the text. Translations used are those of the author, and textual criticism and word study are included where appropriate. This in-depth commentary also includes extended excursuses on important topics of theological and historical interest.
Hardcover
524 pages
1992
9780802492654