---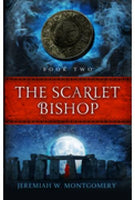 Sale
They said the Dark Faith was dead. They were wrong.
Hidden behind the holy robes of the Red Order, the shadow of the Dark Faith has returned. As it spreads with political cunning and preternatural power, war threatens to engulf the nations of Aeld Gowan. Meanwhile, Morumus and Oethur have narrowly escaped the Red Order and found refuge at Urras Monastery. With them is Urien, a young woman rescued from the clutches of the Mother. She alone can read the Bone Codex, an ancient book holding dark secrets. But even as she struggles to unlock the haunting text, the Red Order sets in motion plans to eliminate her protectors and to reclaim her...
The epic battle between good and evil continues in The Scarlet Bishop, the second book in the masterful Dark Harvest trilogy. It is a battle that will push three friends to the very limits of their strength—and their faith—as they fight to unearth the truth of an ancient evil, a tree rooted in bloodshed, and a fabled book that holds the secrets they seek.
The Dark Harvest trilogy follows Morumus, a monk tasked with confronting the Dark Faith and its blood-steeped rituals. Jeremiah Montgomery, a masterful storyteller, has created a world that heightens the reality of spiritual warfare and the danger of subversion in the church.