---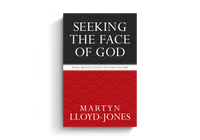 Sale
"One thing have I desired of the LORD, that will I seek after; that I may dwell in the house of the LORD all the days of my life, to behold the beauty of the LORD, and to enquire in his temple."
-Psalm 27:4, KJV
The Psalms are treasures from those who earnestly sought the face of God. They are honest messages of sorrow, joy, praise, and wisdom from real people who experienced real struggles. In the psalmists' words we see their hearts open before God.
In Seeking the Face of God, Martyn Lloyd-Jones unpacks nine passages from the Psalms and weaves them together with the everyday life of the world in which we live. His reflections are practical, powerful, and profound.
For those just beginning to study the Psalms as well as those who know them well and wish to consider them from a new angle, this collection of sermons from one of the greatest preachers of the twentieth century will move your mind to greater understanding and your heart to deeper worship.
Paperback
176 pages
© March 31, 2005

ISBN 9781581346756