---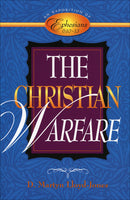 Sale
Martyn Lloyd Jones' much loved series on Ephesians is one of the most complete commentaries on that book. Now offered in paperback, this eight volume set displays the respected author's elegant style and probing thought.

Exegetical in nature and penetrating in insight, the commentaries in this series present Paul's thought exhaustively covering the entire book of Ephesians. Originally preached as sermons at Westminster Chapel, this series on Ephesians exhibits the author's trademark blend of profound insight an practical wisdom. Together, the 8-volumes comprise an unfailing resource for preacher's and Bible teachers and are equally rewarding for personal study. Christians at every stage of development will find them an invaluable guide to living the Christian life.

In this volume, Lloyd-Jones covers chapter 4.1-16 and explores the full satanic strategy, including how discouragement, anxiety, false zeal, lack of assurance, and worldliness come under the heading "the wiles of the devil."
Type: Paperback
Pages: 374
ISBN: 9780801058004
Publication date: March 1998