---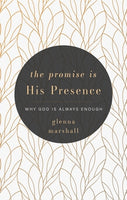 Sale
What if you didn't have to go looking for God's presence? What if you could enjoy it all the time?
Glenna Marshall's awakening to God's presence began in the depths of winter. Rereading her journal, she realized that for six months she'd been cataloging all the ways God had abandoned her. What if that . . . wasn't true? Interweaving her own story of faith and doubt amid suffering, Glenna traces the theme of God's presence from Genesis to Revelation and shows what it means for us in our own daily joys and struggles. 
God's presence among his people set him apart from the pagan gods of ancient times. His presence on earth as God Incarnate split history in two. And today his presence is one of the most significant means of his goodness to us. 
Sample chapter:  https://storage.googleapis.com/prpbooks/documents/pdf/sample-chapters/9781629954738.pdf
Pages: 200
Type: Paperback
ISBN: 

9781629954738

Published: August 1, 2019