---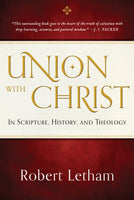 Sale
Union with Christ is the central truth of the whole biblical teaching about salvation. The entirety of our relationship with God can be summed up in this doctrine.
Yet when people ask what this union actually is, we flounder.
The incarnation shows that God has made us to be united with him, and God has given us his Word to enable us to understand the nature of this union. Explore this doctrine from Scripture with Robert Letham, along with some help from the church fathers up through modern theologians.
Paperback
Pages: 176
9781596380639

October 21, 2011