---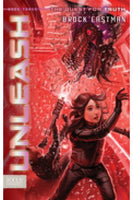 Sale
"Claws raised, mouth open, it was coming for her!"
Game on! The Wikk kids unleash fresh courage in the face of new adventures! Working as a team, they tackle their greatest dangers yet: lies, betrayal, a frozen planet, and fierce lizards that want to eat them all! Facing their fears and searching for answers, Oliver and Tiffany slip into a high-security laboratory while Mason, Austin, and Obbin battle Corsair pirates and make a shocking discovery! Will they be able to unlock the truth about Creator and take the next step? Will you? 
THE QUEST FOR TRUTH series follows the four Wikk kids in their desperate race to find the mysterious planet Ursprung and stop the Übel renegades from misusing its long-lost secrets. Ancient cities, treacherous villains, high-tech gadgets, the Phoenix—encounter all these and more on this futuristic, interplanetary adventure.