---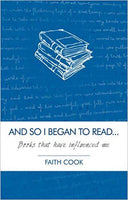 Sale
Ralph Ireland has written this preface:
Faith Cook has written 22 books largely biographical, and they have influenced a great many people most of whom look forward to her next work. This book is different.
Over the past few years it has been my privilege to appraise draft manuscripts of several of those books and offer constructive comments. This book tells us how Christian books have influenced the author herself. It offers rich insights into how she grew as a Christian under their influence. It does more: it challenges the reader to read (or re-read) the books she refers to. In my own case it challenged me to re-read her own Grace in Winter: Rutherford in verse (Banner of Truth 1989). With better understanding of what drove her to write it, I read it as if I had never read it before !
This book complements her autobiography: Troubled Journey: A Missionary Childhood in war torn China (Banner of Truth Trust, 2004) and those who haven't read that book
will almost certainly want to do so after reading this one.
This book also reveals two other major literary sources that have strongly impacted her life: the writings of John Bunyan, and Christian hymns that have been written down the ages; here you can gain some insights into how she was impacted.
If these insights whet your appetite there are two other volumes you might like to read:
Fearless Pilgrim: the life and times of John Bunyan, and Our Hymn Writers and their hymns.
Meanwhile, enjoy this one.
Type: Paperback

Pages: 115

ISBN: 9781783971459

Publication Date: 2016