---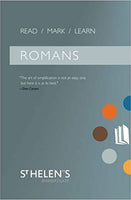 Sale
"It is impossible to read or to meditate on this letter too much
or too well. The more one deals with it, the more precious it
becomes and the better it tastes." Martin Luther
Read / Mark / Learn is a small group Bible study series that is designed to equip people to study God's Word for themselves - and in studying it, know God's purpose for their lives. Each study establishes:
the context, aim and structure of the passage;
links with the Old Testament;
lessons from each part of the passage - highlighting key issues;
practical applications and suggestions.
Each section also includes conversational discussion starters and suggested questions for leading a Bible study. There is also a section for photocopying for group members to pre-prepare for each study.
Read / Mark / Learn has been established for over 30 years and has proved, internationally, to be a successful way to hold satisfying and enjoyable group Bible studies. It has been developed by one of London's leading churches, St Helen's, Bishopsgate.